Ireland vacations
are more popular than ever...
But with all the options available for Ireland vacations...
How do you find YOUR fantasy Ireland? How do you experience the Ireland you envision in your dreams?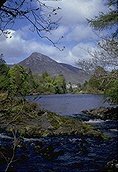 Do you feel a calling to return to the land where your Celtic soul truly belongs? Why haven't you answered that call to live out your lifelong dream?
Perhaps you're not sure what to do or where to go. Or maybe you think a vacation in Ireland would be too expensive. But you can have a Fantasy Ireland Vacation that is relaxing, exhilarating and affordable.
It doesn't have to be a typically confusing, overwhelming tourist experience. With the right information and guidance, you can plan the perfect Ireland vacation and still make the most of your time and money.
If you have yet to experience the Emerald Isle outside of your fantasies, plan today to experience Ireland in all her splendor. You deserve it!
Fantasy-Ireland.com is here to help...

ÉIRE
Hills as green as emeralds
Cover the countryside...
Lakes as blue as sapphires
Are Ireland's special pride...
And rivers that shine like silver
Make Ireland look so fair...
But the friendliness of her people
Is the richest treasure there.

With the right guidance,
Ireland vacations can fulfill any traveler's fantasy...
The lush landscapes, the magnificent coastlines, the spirited culture.
Anyone with a true Celtic heartbeat dreams of travelling to Ireland...
Romantic getaway...
Family vacation...
Spiritual quest...
Pleasure trip...
No other country in Europe can boast the perfect blend of breathtaking views, lively culture, friendly people, historical castles and monuments, and all-around perfect vacation experiences like Ireland.
So let me be your Fantasy Ireland vacation guide.
Start your journey to the Emerald Isle today...
Experience Your Fantasy Ireland!

Why you should stay in an Ireland vacation rental
When it comes to the issue of where to stay, an Ireland vacation rental is a better option than staying in a hotel because they give you a real home away from home...
The best Ireland bed and breakfasts
Learn why Ireland bed and breakfasts hold such a unique appeal and find out the best Ireland bed and breakfasts in Dublin, County Galway, County Cork, County Kilkenny, and Northern Ireland.
What are the top 10 tourist attractions in Ireland?
If you were to ask thousands of tourists what their favorite tourist attractions in Ireland were, they's undoubtedly include these fine sites.
Tips To Help You Plan Ireland Golf Vacations
Ireland golf vacations can fulfill all of your golfing dreams. Ireland golf vacations are easy to organize and there are many opitions available.
An Ireland tour package for your family
When traveling with a family, an Ireland tour package is a great way of both keeping everyone together and keeping an itinerary while seeing the Emerald Isle.
Experience the Emerald Isle intimately with an Ireland Walking Tour
For those who wish to see Ireland from its glorious vistas, to its barest detail, an Ireland walking tour will allow you to experience Ireland in a way that cannot be matched by any other tour...
Ireland and Scotland tours
Offering the perfect setting for adventure, romance, family fun, history, or just for serenity. Each unique and charming, but together they make the perfect Celtic vacation!
Why You Need a Rental Car in Ireland
The best way to see all the beauty the Emerald Isle has to offer, at your own pace, is by having a rental car in Ireland.
How to Save Money on Rental Cars in Ireland
Learn how to save money on rental cars in Ireland and still see the best Ireland has to offer...
If you need more ideas to jump start your planning, my friend Peter Shannon can help. He has several exciting Ireland vacation ideas to get you started!

Return from Ireland vacations to the Homepage