Explore the Castles of Ireland:
Take a Journey To the Past
Why are the castles of Ireland among the most
popular tourist attractions of the Emerald Isle?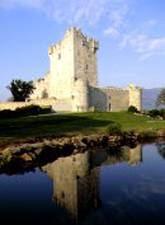 Because they are doorways to fairy-tale fantasy and living history at the same time...
Because more medieval castles survive on the Emerald Isle than in most European countries.
Although many are now in ruins after centuries of invasion and civil unrest, there are dozens of castles in Ireland that have survived beautifully or have been lovingly restored.
Some castles in Ireland are even used as family homes, although finding castles for sale in Ireland is a challenge.
Many castles of Ireland are now cultural heritage centers offering guided tours.
There are even several Irish castles that have resident ghosts!
Best of all, many historical castles in Ireland have been converted into magnificent hotels!
They all stand as a testament to Ireland's rich history, for better or worse.

Contrary to popular belief, the castles of Ireland were not always the opulent royal homes often depicted in films and television.
Although the chieftains, kings, and aristocrats did own them, their purpose was usually defense, not residence.
The truth is, castles in Ireland were usually fortresses designed to provide protection from invaders and raiders. Nevertheless, dozens of Irish castles have been transformed over the years to become masterpieces of Gothic, Victorian, Norman, or Palladian architecture. Others are steeped in the mystery of the past, standing only as shadowy memories of the often bloody history of the land on which they stand.
But regardless of which type of castle captivates you, all the castles of Ireland offer visitors from around the world the chance to be swept up in the romance, the mystery, the tragedy, and the grandeur of Ireland's past.
So get ready to discover the beauty, the mystery, and the glory of Irish castles!
Click Here to return to the TOP of this page

Fantasy Ireland's Featured Articles about
The Glorious Castles of Ireland
Who hasn't dreamed of sleeping in a castle, and being treated like royalty? So let's begin with the undeniable allure of Irish castle vacations. Nothing will take you back to your Irish roots faster (even if you don't have a drop of Celtic blood in you)!
There are many castles in Ireland that provide overnight accommodations, but few will give you both quality and value for the money. And those that do are spread out all over the land. Fantasy Ireland's regional guide to the best Irish castle hotels makes it easier for you to research castles in the area of Ireland you plan to visit. Learn about as many as you want... but if there's a specific region you plan to visit, this will make it much easier to choose a quality castle hotel.
You can live like royalty and save money at the same time with an Ireland castle vacation package! To make it easier to plan your luxury trip on a budget, we give you our top 5 recommended Ireland castle vacation packages
Finding Irish castles for sale is a challenge, especially for people who don't live in Ireland. Nevertheless, many take up that challenge every year. I'd like to give you some practical advice to help you in your search for Irish castles for sale...
And finally, explore the eerie wonders of the haunted castles of Ireland. The numerous haunted castles in Ireland are still an irresistible attraction to all those brave souls who love to explore the mysterious otherworld...
So sit back, relax, and get ready to take a journey to the past with the many glorious castles of Ireland!

Best Castle Resources
Guide to Castles of Europe
Visit some of Europe's most picturesque, mysterious and notorious castles. Unravel the history, legends, and myths behind some of their celebrated and not so renowned castles in a voyage of discovery.
If you are a bookworm like me, and would like to read more offline about the castles of Ireland, I highly recommend the book, Great Irish Houses and Castles.
Click Here to return to the TOP of this page
Click Here to return to the Fantasy Ireland Homepage