Markree Castle Ireland
The best place for an affordable
Fantasy Ireland Castle Vacation!
Just a wee bit South of the Donegal coast,
In the heart of Yeats' country, lies Markree Castle Ireland.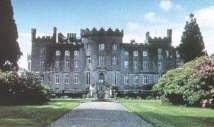 Surrounded by romantic landscapes and scenery, it is one of the best Ireland hotel castles in the Northwest.
Markree Castle Ireland is considered one of Ireland's finest architectural masterpieces.
While not the most luxurious castle in Ireland, Markree Castle offers travelers on a tighter budget an authentic Ireland Castle Vacation with a much more economical pricetag.
This is the oldest inhabited castle in the county, owned by the Cooper family for over 350 years. The entrance has an impressive oak staircase with a stained glass window on the landing which traces the Cooper family tree back to the time of King John of England.
The guest bedrooms all have glorious views over the gardens or surrounding countryside. They are each designed with distinctive style and character and still pamper castle guests with all the modern conveniences such as telephones, televisions, hairdryers, and individually-controlled heaters.
Although it's original splendor is a bit faded, Markree Castle Ireland retains an abundance of character and charm.
It is an excellent choice if you are looking for a more affordable Ireland Castle Vacation. Your stay here is sure to be a memorable experience, touched by the warmth and hospitality of one of Ireland's oldest families.




Click here to return to the TOP of this page
Click Here to see the BEST Hotel Castle in Northwest Ireland:
Glin Castle
Discover the undeniable allure of Ireland castle vacations...
Click here to go FROM Markree Castle Ireland
TO Our Regional Guide to the Best Ireland Hotel Castles




Home | Blog | Search | Site Map | Link to Me | Request a Link
About Me | Resources | Submit Your Article | Contact Me | Privacy Policy