Searching for shamrock jewelry without a guide is a waste of time...
Just because a merchant advertises that they carry shamrock jewelry doesn't mean they have what you are looking for. You need someone to tell you where you'll actually find some, what kind you'll find, and whether these shops give you a good reason to give you their business.
That's what this buyer's guide is all about.

The value of shopping online
for shamrock jewelry
Finding shamrock jewelry at your local shopping mall is highly unlikely, even around St. Patrick's Day. Even if you
are
lucky enough to find some...it's usually cheap costume jewelry that might not even last through the day.
There's nothing wrong with inexpensive jewelry, though. As long as it doesn't look cheap and doesn't practically fall apart right out of the box!
Take my first piece of shamrock jewelry, for example. I bought it from my sister back when she was trying to make extra money selling Avon. It was a set of sterling silver dangling shamrock earrings that cost less than $15. I bought them over ten years ago and I still wear them from time to time. Not bad.
But there's also nothing wrong with expensive jewelry. As long as the price reflects the quality and isn't ridiculous, sometimes higher prices are still the best value. A few hundred dollars is a small price to pay for a piece of exquisite shamrock jewelry that you can pass down from generation to generation.
You have a much better chance of finding quality shamrock jewelry online than in your own town (unless you live in Ireland, that is!) because there are stores from all over the world competing for your business.
With all that competition, you'd think it would be really easy to find plenty of shamrock jewelry online, especially right before St. Patrick's Day. Unfortunately, that's not the case.
Even online stores that specialize in Irish merchandise often have very little shamrock jewelry to choose from. And what they do have is hard to find amidst all the Claddagh and Celtic knot jewelry.
That's why you need our buyer's guide to shamrock jewelry.
Looking for shamrock jewelry that is an expression of your Irish-Catholic faith?
Or something to make your St. Patrick's Day party ensemble really sparkle?
Something casual to wear to work?
Or something really special, crafted especially for you in Ireland?
Read on to find out where to find any or all of these and a few other reasons you may select a particular shop...



Shamrock jewelry with sparkle...


Sometimes the only way to feel like an Irish princess is to have something that sparkles. Here are two pieces I found that give you the glitter without breaking the bank.
On the left is the eye-catching Silver Shamrock Pendant. Green peridot and a cubic zirconia accompanied by my birthstone, amethyst, give this glistening piece its very affordable pricetag.
On the right is a lovely Women's Sterling Silver Shamrock Pendant with Crystals. Although this pendant is a little more expensive, the various crystal colors make it uniquely appealing.



Shamrock Jewelry
As an emblem of faith...

What better way to express your faith and show pride in your heritage on St. Patrick's Day than by wearing a
shamrock pendant
featuring
Saint Patrick himself?
This sterling silver 18-inch pendant brings the legend of St. Patrick and the shamrock to life in exquisite detail. It's the perfect choice of shamrock jewelry for you or someone you love who takes pride in their strong faith. It even comes with two little prayer pocket coins and a black velvet gift bag stamped in gold.
For this kind of quality and attention to detail, you might expect to pay much more (and you probably would at the mall, if you were lucky enough to find something like this there at all!) But you can own this fine piece for only $51. The shipping charges are a wee bit steep, but this merchant will have it to your front door within a week with standard shipping.



One-of-a-kind Irish Craftsmanship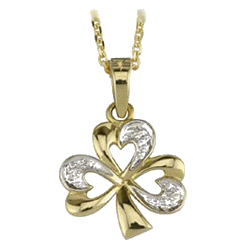 If you want a piece made especially for you, there's no better choice than My Celtic Jeweler. Their jewelry is special. Based in Ireland, their shamrock jewelry isn't bought in a store. Instead, you'll receive a piece custom-made in the finest traditions of Irish craftsmanship.
Choose the 14 kt Gold and diamond shamrock pendant, diamond shamrock earrings or both for a matching set. The simple elegance of gold and diamonds will show the world you're an Irish princess through and through.
While My Celtic Jeweler doesn't offer much variety in the way of shamrock jewelry, the quality of these pieces is striking. My Celtic Jeweler only sells high quality jewelry individually handcrafted by highly skilled craftsment in Ireland. Each piece is assayed and stamped with the official hallmark by the Irish Assay Office in Dublin Castle, which means you'll have a lifetime guarantee.
Click here to learn about Irish Hallmarks



Fast delivery, free shipping, customer service, and other shopping perks...
Fast Delivery
If you're living anywhere outside of Ireland or the UK, getting your shamrock jewelry directly from merchants in Ireland quickly may be a tad expensive. But Creative Irish Gifts carries authentic Irish jewelry and is based in the United States. So if you live in the US or Canada, you'll get you're order much faster from them.
Free Shipping
Free shipping from Ireland to anywhere in the world? Yes! My Celtic Jeweler gives you free Fed-Ex shipping
Charity
Creative Irish Gifts gives generously to charity. So when you buy shamrock jewelry from them you can feel good knowing you are helping people in need.

Creative Irish Gifts was founded in 1982 just to provide financial support to the Irish Children's Fund. This non-profit organization's mission is to work with at-risk children in the most troubled areas of Belfast.

Because of Creative Irish Gifts and ShopIrish, many of Northern Ireland's children who were most in danger of adding to their country's troubles later in life are living more confident, productive, and successful lives. And thanks to them, the people of Ireland and the world are more at peace.

My Favorite Shamrock Jewelry
Of all the shamrock jewelry I have seen, it's hard to choose a favorite. But I carefully considered all the most important features and chose a shamrock jewelry set that I believe makes the best all-around choice.

And the winner is...the Green Crystal Shamrock Set
I found at Creative Irish Gifts.
Glistening shamrocks, inset with brilliant green crystals, accentuate these three lively pieces. They're inexpensive, fun, and festive.
One of the best things about shopping with Creative Irish Gifts is that most of their shamrock jewelry is inexpensive. If you are the casual type...perhaps a student or a stay-at-home mom like me...you want your shamrock jewelry to have elegance and class, but you also need it to be durable and a good value for your money.
This set is lovely, inexpensive, undeniably Irish and unique. As a bonus it arrives fast if you live in the US like I do, but if there are any delays or other issues of any kind the customer service is top-notch.
Friendly, helpful, down-to-earth. That's the Irish way...



The Runners Up...

"Real Shamrock" Jewelery Set

Genuine shamrocks from Ireland are permanently encased in these unique pieces. Necklace: $17.99, earrings and brooch $12.99 each. All three $43.97.



The Celtic Shamrock Jewelry Collection

Gleaming sterling silver embossed with Celtic knots makes this set stand out. Pendant $29.99. Earrings $13.99. Both for $43.98.



The Claddagh on a Shamrock Pendant

This unique pendant is crafted from luxurious 10 kt. gold and artfully combines a yellow gold shamrock and a white gold claddagh. The chain is 18" and the pendant is 3/4". This piece comes directly from Ireland with free shipping.



My Favorite Shamrock
Jewelry Merchant
Although Creative Irish Gifts won with their many shamrock jewelry sets, including my favorite, they aren't
quite
my favorite merchant (although they do run a close second!) The winner of that honor is...
My Celtic Jeweler: Irish Celtic Jewels International Limited
Even though their merchandise is more expensive than some other merchants, you're paying for quality craftsmanship...and that was the deciding factor for me.
There's something really special about getting a piece of shamrock jewelry made especially for you by the hands of a traditional artisan in Ireland.
The officially hallmarked pieces, lifetime guarantee, 45-day returns and free shipping join with their quality products to seal the deal. My Celtic Jeweler stands out as the merchant who most puts customers first.
My Celtic Jeweler is second to none at putting quality and customer service first. Believe me, once you take a look around, you'll be glad you did. Based in Ireland and Irish-owned, My Celtic Jeweler is truly a special Irish-Celtic jeweler.



With shamrock jewelry, like anything,
You get what you pay for.
If you want a piece to last a lifetime, don't be afraid to pay for quality. But if you just want a piece to wear for the short term, inexpensive jewelry is fine. Sometimes the most unique shamrock jewelry is quite inexpensive. You just need to make sure the quality is what you expect.
It's a bonus to find merchants with discounts for repeat customers, free or fast shipping, or charitable giving...but the most important thing is to try to get shamrock jewelry that is a good value for the money you spend and that it is an expression of your unique tastes.