Croagh Patrick
Croagh Patrick is undeniably one of the
most sacred places in all of Ireland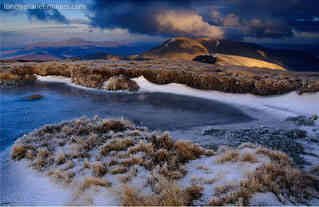 Just five miles from Westport, in County Mayo, Croagh Patrick stands out, 2510 feet high among several magestic mountains, as if in defiance to the crashing waves of the Atlantic. Also known as "St. Patrick's Mountain", it was called "Eagle Mountain" in ancient Pagan times.
St. Patrick followed the call of his guardian angel and retreated atop this holy place. Patrick spent 40 days and 40 nights of Lent atop Croagh Patrick fasting, praying, and fighting demons...just as Moses and Jesus had spent 40 days isolated in the wilderness.
He prayed continuously for mercy and blessings for the people of Ireland. One small, solitary cave provided his only shelter from the bitter onslaught of wind, rain, and snow.
Demons tempted him, just as they had Moses and Jesus. They would swarm around him in the form of huge flocks of birds of prey. Like a black cloud, blocking his view of earth, sky, and sea...covering the whole mountain with their fearsome strength.
At times it would seem they would be victorius and overcome him...but he relentlessly prayed and rang out his bell.
Eventually, the demons fled and cast themselves into the ocean. At last he was victorious over evil in the land of Erin. As the story goes, "for seven years no evil thing was to be found in Ireland."
Even after vanquishing the demons into the sea, he still had work to do. Just as Jacob did in the Old Testament, he stayed at Croagh Patrick to secure eternal life for the Irish people from God.

The angel had announced to him that, to reward his fidelity in prayer and penance, as many of his people would be gathered into heaven as would cover the land and sea as far as his vision could reach. Far more ample, however, were the aspirations of the saint, and he resolved to persevere in fasting and prayer until the fullest measure of his petition was granted. Again and again the angel came to comfort him, announcing new concessions; but all these would not suffice. He would not relinquish his post on the mountain, or relax his penance, until all were granted.
So although the whole world honors Saint Patrick on March 17 by feasting and celebrating, tens of thousands choose to wait for the summer to pay their respects.
Nearly a million people climb Croagh Patrick annually, according to current estimates. But every year on the last Sunday in July, tens of thousands of devoted Catholics make a pilgrimage to brave the rough landscape and climb 2510 ft. to the summit.
The truly devoted pilgrims make the climb to the summit of Croagh Patrick completely barefoot. For them, it is an opportunity to cleanse their spirits and pay homage to Saint Patrick's mission in Ireland.
Their first stop is the granite statue of St. Patrick, which has been there since 1928 thanks to Reverend Father Patterson and the money he collected in America for rebuilding the St. Mary's Church in nearby Westport.
Until a violent storm killed thirty pilgrims in 1113 AD, the annual pilgrimage took place during Lent. Since that tragedy, the pilgrimage has taken place in Summer, the last week of July to be exact.
To find out more about the pilgrimage, visit Croagh-Patrick.com.
Croagh Patrick isn't the only sacred place in Ireland honoring Saint Patrick. Click here to read about more Saint Patrick Landmarks

Click here to return to the TOP of the page
Saint Patrick: Patron Saint of Ireland